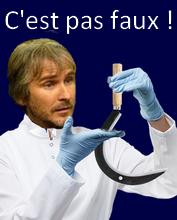 Ferraro & Tracy (2021) - Aversion aux pertes, études en laboratoire ou sur le terrain : vers une psychologie ancrée dans le réel
« La table ronde CPAFO continue encore et toujours sa quête de connaissance »

Pour cette nouvelle édition, retrouvons nous mardi 29 Mars en salle 404 à 12h15.
| | |
| --- | --- |
| Date : | Mardi 29 Mars 2022 |
| Heure : | 12h15-13h15 |
| Lieu : | Salle 404 |


Pour ce CPAFO, Rosie nous présentera cet article de Ferraro et Tracy (2021) sur l'aversion aux pertes dans le cadre d'études de laboratoire et de terrain. L'objet de cette édition est d'échanger sur les questions de transposabilité du laboratoire au monde réel et de discuter plus largement de la place des études de terrain en psychologie.

Je vous rappelle qu'il est possible d'assister aux tables rondes à distance sur Teams
(https://teams.microsoft.com/l/team/19%3a01lau8Vm4pxfS25E3603eTUAOCjDdNxyzBHNzaRutzg1%40thread.tacv2/conversations?groupId=6f8d1670-2449-424c-8c28-b4ea81a37336&tenantId=5a16bd04-b475-49ff-b11a-c6c8359db1b1)

Si vous souhaitez lancer une discussion sur un article, un outil, une méthode ou sur quelque chose qui vous intéresse, n'hésitez pas à me contacter pour organiser (une date et un thème) une nouvelle édition CPAFO.
À mardi pour cette nouvelle édition !

Auteurs (année) : Ferraro & Tracy (2021)
Titre : A Reassessment of the Potential for Loss-framed Incentive Contracts to Increase Productivity : A Meta-analysis and a Real-effort Experiment
Journal : ESI WORKING PAPERS

Résumé :
Substantial productivity increases have been reported when incentives are framed as losses rather than gains. Loss-framed contracts have also been reported to be preferred by workers. The results from our meta-analysis and real-effort experiment challenge these claims. The meta-analysis' summary effect size of loss framing is a 0.16 SD increase in productivity. Whereas the summary effect size in laboratory experiments is a 0.33 SD, the summary effect size from field experiments is 0.02 SD. We detect evidence of publication biases among laboratory experiments. In a new laboratory experiment that addresses prior design weaknesses, we estimate an effect size of 0.12 SD. This result, in combination with the meta-analysis, suggests that the difference between the effect size estimates in laboratory and field experiments does not stem from the limited external validity of laboratory experiments, but may instead stem from a mix of underpowered laboratory designs and publication biases. More- over, in our experiment, most workers preferred the gain-framed contract and the increase in average productivity is only detectable in the subgroup of workers (20%) who preferred the loss-framed contracts. Based on the results from our experiment and meta-analysis, we believe that behavioral scientists should better assess preferences for loss-framed contracts and the magnitude of their effects on productivity before advocating for greater use of such contracts among private and public sector actors.
Ferraro, P. J, & Tracy, J. D. (2021). A reassessment of the potential for loss-framed incentive contracts to increase productivity : a meta-analysis and a real-effort experiment. ESI Working Paper 21-20. https://digitalcommons.chapman.edu/esi_working_papers/357/